Do you really know who your best customers are?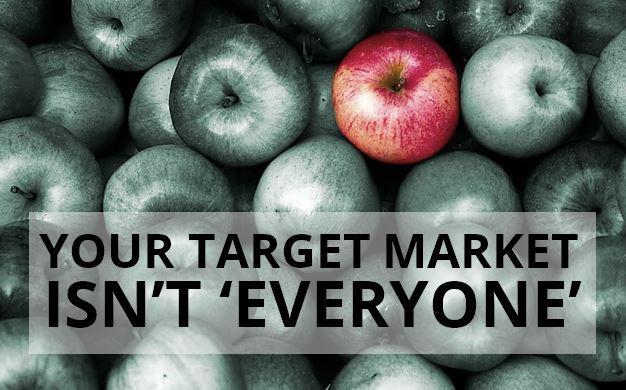 Okay, so the other week I talked about how it's crucial for small businesses to get specific with their marketing goals. And last month I talked about how small businesses need to answer some very detailed questions about their business before they spend any money at all on marketing.
Look how theme-y I'm getting! Pretty soon I'll be doing the 12 days of blogmas or something.
Just in case you haven't spotted the theme yet, here it is: When small businesses start throwing money at marketing without doing their homework or getting very specific with their goals, they often always spend more than they need to for less than they hoped. And probably start saying things like "marketing is useless" or "marketing consultants are idiots". (Only the second of these is sometimes true.)
Narrowing down target markets is the worst part of my job
Most of the time, when I tell clients that it's important to articulate clear business goals so they can tie their marketing efforts and results to them, they're totally on board. It's easy to understand that you can't reach goals if you don't set them.
It's when we get to identifying the target market(s) that we always run into trouble: "We have no ideal client!" the businesses say. "We want to sell to everyone!"
Except even McDonald's isn't selling to everyone – or at least they're not trying to sell everything, all the time, to everyone. That's why Happy Meal ads feature kids, while McCafe ads feature mildly hipster-type 30-somethings: They have different target markets.
So I can assure you, with some confidence, that your commercial office moving service, or your financial planning consultancy, or your large-scale aquarium maintenance business should also not be trying to market to 'everyone'.
I get it. If you've spent the past few years of your life pouring all your time and energy into your business, the thought of losing even one potential customer makes you feel a bit sick to your stomach. But if you've spent all that time building your business, you've probably learned that chasing the wrong clients is futile: The cost of acquiring them is too high, they keep you up at night because they're never satisfied anyway – they just don't deliver a good ROI.
(And as so many Canadian companies saw with the Target debacle, even if you do, once in a while, land one of these unicorn clients, they can still be the kind of nightmare that demands 90-day payment terms and then skips town.)
Marketing is the same: Chasing long-shot target markets will cost you more money, time and resources than you can afford. So while I know it's painful, you've got to define one or two ideal customers and then spend most of your time marketing to them. A year or two from now, when the cash is rolling in, then go ahead and broaden your scope – you'll be able to afford it.
How to start defining your ideal client: 5 steps
If you want to get more out of your marketing dollars, you have to make decisions based on actual facts. Here's how to determine your ideal client:
Stop relying on anecdotal information. It's easy to get sidetracked by compelling anecdotes about unexpected, easy, or huge sales wins. But repeating an anecdote at every sales and marketing meeting for 2 years doesn't turn it into 'data'.
Pull a list of your clients from the past 12-24 months. 99% of the time, you're going to find that your most profitable clients aren't actually who you thought they were.
Segment your client list by industry/vertical. When they actually sit down and do the numbers, most B2B SMBs discover that they're making 85% of their revenue from a shortlist of 3 or 4 key industries. That's where you should be spending your marketing dollars – until you've saturated those or have a specific business mandate to expand to other verticals.
Ensure senior leadership – including the sales department – is on board. One of the biggest hurdles to marketing success for SMBs is when the CEO, the VP Sales and the VP Marketing can't agree on which target market(s) should get the most marketing support. It dilutes the marketing message – and the marketing budget. Don't spend any money on marketing until everyone's on the same page.
Create a profile of the individual decision maker(s). In B2B marketing, companies often don't think about demographics/psychographics: They get focused on marketing to an industry or organization, and forget that, just like in B2C marketing, there's an actual person who has to make the final purchasing decision. Knowing exactly what that person looks like, and what motivates them, will help you focus your marketing efforts more effectively. (And don't forget to create profiles for the decision influencers, too!