I guess this is what happens when there are so few taboos left to break.
Last time I wrote a blog post tagged #badvertising, it was about a strangely discombobulated spot for Depends undergarments in which figure skaters (who took pains to indicate they did not need the product) leapt around in adult diapers 'for charity'. I had a little sympathy for the advertisers, though: It's hard to make incontinence appealing.
Today, however, I have no sympathy for our #badvertising culprits. Readers, I give you Harvey Nichols' latest ads:
Just in case you can't believe what you're seeing here, those dark spots in the crotches (sorry) of the models' pants are in fact supposed to be pee stains. The point of the ads, you see, is that you'll be so excited by the Harvey Nichols sale that you will literally wet yourself.
And it continues: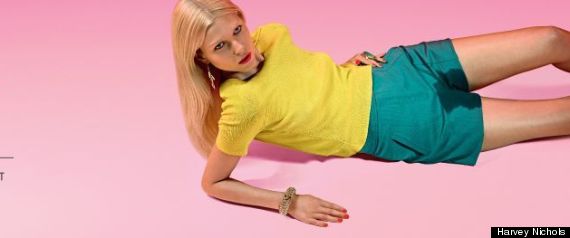 Now, in case you are unfamiliar with Harvey Nichols – or Harvey Nicks, as Edwina and Patsy would say – let me just explain that it is a London-based department store where you'd go to find, say, an $800 pair of shoes. In other words, this isn't an Urban Outfitters sort of a place that is trying to appeal to the ironic hipster crowd. And while I could no doubt make some cheap jokes about the likelihood of the Tara Palmer-Tomkinson socialite set both (a) dressing badly but expensively and (b) wetting their pants after some particularly salubrious nights out, I just don't think associating your brand with urine stains is really the way to go.
(What's more, I have a suspicion that the biggest-spending clientele of Harvey Nichols – as with many of the higher-end stores – is in fact the 50-but-dying-to-look-like-their-teenage-daughter crowd, and the last thing about which they'll care to be reminded is their impending incontinence. But that's just my opinion.)
Harvey Nichols' spokesperson said something about how the ads were supposed to be 'tongue-in-cheek', irreverent, blah blah blah. The usual. But wouldn't it have been so much more tongue-in-cheek if the 'excitement' was represented by, say, visible engorgement of erectile tissue? Or possibly headlights?
Okay, I can't write any more. I'm cringing as much as you are.