Maybe it doesn't matter if the twitterverse and blogosphere are alight with fury
You've probably heard about Restoration Hardware's recent infamous catalogues: Since early May, RH has been sending out bundles of its 'source books', each weighing 12-17lbs, depending on the assortment. (A 12lb bundle arrived here, though I can't remember the last time we bought anything from RH, and in fact I've always hated their insistence on using US dollar pricing in their catalogues.)
Here's an example – this is the 15lb bundle:
Predictably – at least to anyone living in the real world, which apparently excludes everyone on the Restoration Hardware marketing team – the internets were quick to respond with derision, mostly on environmental grounds. The twitterverse has seen a more or less constant stream of 'WTF?' and 'Are you kidding me?' tweets for 6 weeks or more, and even die-hard RH fans were left dismayed and disappointed by the whole thing. There are several Facebook groups and pages calling for the abolition of RH catalogues. In Palo Alto, residents organized a mass return of the catalogues to the local store, dumping 2000lbs of the 'source books'.
All the catalogue bundles were accompanied by a message about how even though they seemed big, they actually had a lighter carbon footprint: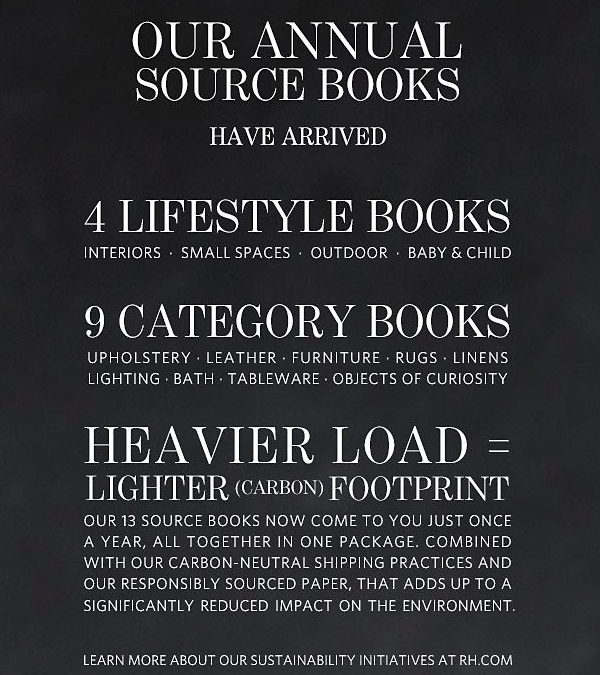 …except Ben Elgin at Bloomberg did some research and discovered that RH's 'sustainability' claims were dubious at best.
With social media buzz this bad, it's time for damage control, right? Maybe not.
Received wisdom – well, received wisdom amongst marketing and media and innovation and 'disruptor' types – is that social media is Powerful and Relevant and Resonant, and that it's imperative that when you get this kind of negative reaction, you need to start doing hard-core damage control. You need to get a dedicated Twitter account going to respond to criticism, post a heartfelt and sincere mea culpa on your website, make a large donation to some kind of environmental charity – heck, maybe you should start a whole division dedicated to the elimination of paper-based catalogues worldwide. Because otherwise people will Abandon Your Brand.
Restoration Hardware has done none of this. They've largely ignored the social media frenzy, and have consistently dodged questions even from mainstream media.
In fact, they've doubled down: In 2012 they were criticized for a 992-page catalogue – which was bigger than 2011's 600+-page version – and ignored that criticism as well.
Negative social media doesn't mean declining sales
With 3+ years worth of catalogue criticism behind them, and sustained outrage on various social media channels, Restoration Hardware should be seeing declining sales, as consumers flee from a retailer so clearly out of touch, shouldn't they?
As it happens, they're reporting a 20% growth in revenue, beating estimates. A couple of weeks ago, TheStreet,com reported that "RH stock [was] spiking". NASDAQ.com says they're "[Hitting] new high[s] with grand designs". And they're still getting sympathetic coverage in home decor media. (I do think it's interesting that the Restoration Hardware site hasn't posted any media coverage in a couple of years, but there could be any number of reasons for that. Even big companies forget to update their websites sometimes.)
What does this say about the power of social media for brands?
Look, I love social media, and I believe in it. Heck, I get paid to help clients manage their social media and content marketing efforts – and while I may be jaded and cynical, I'm not so far gone that I'd take money from clients for social media management if I actually thought it was a waste of time. I think social media can be a great way to increase brand awareness, improve brand credibility, deliver long-term nuanced messages, and provide great CRM.
However.
We have to admit a few things:
People who are prepared to spend $5200 on a sofa tend not to be spending a whole lot of time in the twitterverse or blogosphere – they have assistants who do that kind of thing
People who are prepared to spend $12,000 on a rug often have more than one SUV in the driveway, which would tend to indicate they aren't necessarily all that concerned with the environment
Many consumers are quite comfortable saying one thing ("Restoration Hardware is terrible for sending those catalogues! I'm totally never shopping there again!") and doing another ("Oh, I got it at Restoration Hardware on sale – I love their stuff!") when the furore has passed
Social media can be a giant echo chamber: The people who are on it are really on it, but there are lots and lots (and lots!) of people who don't tweet, blog, pin or Instagram, so these brand 'scandals' just don't ever turn up on their radar
Now, I happen to think Restoration Hardware is playing a dangerous game here. I think that in the long-term they're going to find that a determined refusal to respond to critics – especially when that criticism turns up in mainstream media channels – is going to have an impact on sales. Their flimsy environmental claims may prove to be their Achilles heel in a world that increasingly demands transparency and authenticity.
However, in the meantime, I also think we have to acknowledge that perhaps social media isn't quite as powerful as people with 'Disruptor' in their job title would have you believe.