Entries tagged with retail
The disastrous catalogues: What do they really mean for Restoration Hardware?
June 30th, 2014
Maybe it doesn't matter if the twitterverse and blogosphere are alight with fury
You've probably heard about Restoration Hardware's recent infamous catalogues: Since early May, RH has been sending out bundles of its 'source books', each weighing 12-17lbs, depending on the assortment. (A 12lb bundle arrived here, though I can't remember the last time we bought anything from RH, and in fact I've always hated their insistence on using US dollar pricing in their catalogues.)
Here's an example - this is the 15lb bundle:
Predictably - at least to anyone living in the real world, which apparently excludes everyone on the Restoration Hardware marketing team - the internets were quick to respond with derision, mostly on environmental grounds. The twitterverse has seen a more or less constant stream of 'WTF?' and 'Are you kidding me?' tweets for 6 weeks or more, and even die-hard RH fans were left dismayed and disappointed by the whole thing. There are several Facebook groups and pages calling for the abolition of RH catalogues. In Palo Alto, residents organized a mass return of the catalogues to the local store, dumping 2000lbs of the 'source books'.
All the catalogue bundles were accompanied by a message about how even though they seemed big, they actually had a lighter carbon footprint: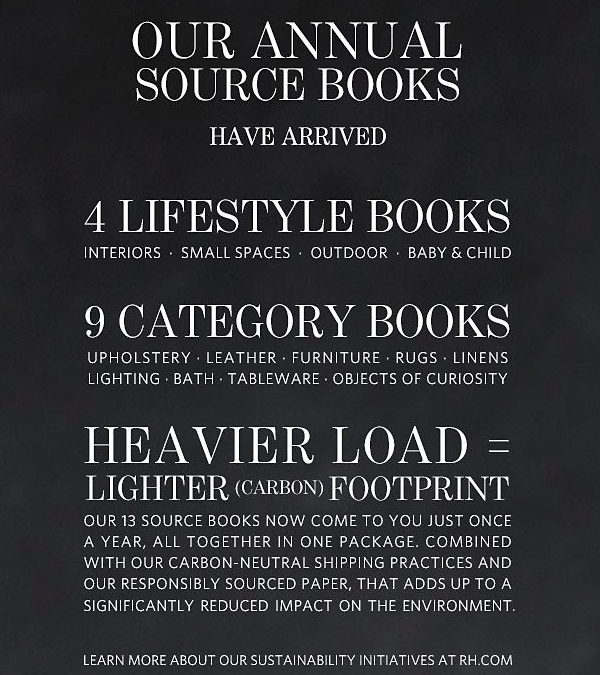 ...except Ben Elgin at Bloomberg did some research and discovered that RH's 'sustainability' claims were dubious at best.
With social media buzz this bad, it's time for damage control, right? Maybe not.
Received wisdom - well, received wisdom amongst marketing and media and innovation and 'disruptor' types - is that social media is Powerful and Relevant and Resonant, and that it's imperative that when you get this kind of negative reaction, you need to start doing hard-core damage control. You need to get a dedicated Twitter account going to respond to criticism, post a heartfelt and sincere mea culpa on your website, make a large donation to some kind of environmental charity - heck, maybe you should start a whole division dedicated to the elimination of paper-based catalogues worldwide. Because otherwise people will Abandon Your Brand.
Restoration Hardware has done none of this. They've largely ignored the social media frenzy, and have consistently dodged questions even from mainstream media.
In fact, they've doubled down: In 2012 they were criticized for a 992-page catalogue - which was bigger than 2011's 600+-page version - and ignored that criticism as well.
Negative social media doesn't mean declining sales
With 3+ years worth of catalogue criticism behind them, and sustained outrage on various social media channels, Restoration Hardware should be seeing declining sales, as consumers flee from a retailer so clearly out of touch, shouldn't they?
As it happens, they're reporting a 20% growth in revenue, beating estimates. A couple of weeks ago, TheStreet,com reported that "RH stock [was] spiking". NASDAQ.com says they're "[Hitting] new high[s] with grand designs". And they're still getting sympathetic coverage in home decor media. (I do think it's interesting that the Restoration Hardware site hasn't posted any media coverage in a couple of years, but there could be any number of reasons for that. Even big companies forget to update their websites sometimes.)
What does this say about the power of social media for brands?
Look, I love social media, and I believe in it. Heck, I get paid to help clients manage their social media and content marketing efforts - and while I may be jaded and cynical, I'm not so far gone that I'd take money from clients for social media management if I actually thought it was a waste of time. I think social media can be a great way to increase brand awareness, improve brand credibility, deliver long-term nuanced messages, and provide great CRM.
However.
We have to admit a few things:
People who are prepared to spend $5200 on a sofa tend not to be spending a whole lot of time in the twitterverse or blogosphere - they have assistants who do that kind of thing
People who are prepared to spend $12,000 on a rug often have more than one SUV in the driveway, which would tend to indicate they aren't necessarily all that concerned with the environment
Many consumers are quite comfortable saying one thing ("Restoration Hardware is terrible for sending those catalogues! I'm totally never shopping there again!") and doing another ("Oh, I got it at Restoration Hardware on sale - I love their stuff!") when the furore has passed
Social media can be a giant echo chamber: The people who are on it are really on it, but there are lots and lots (and lots!) of people who don't tweet, blog, pin or Instagram, so these brand 'scandals' just don't ever turn up on their radar
Now, I happen to think Restoration Hardware is playing a dangerous game here. I think that in the long-term they're going to find that a determined refusal to respond to critics - especially when that criticism turns up in mainstream media channels - is going to have an impact on sales. Their flimsy environmental claims may prove to be their Achilles heel in a world that increasingly demands transparency and authenticity.
However, in the meantime, I also think we have to acknowledge that perhaps social media isn't quite as powerful as people with 'Disruptor' in their job title would have you believe.
---
Shoppers Drug Mart is forcing you to buy their house brands. This may not be a good strategy.
February 19th, 2012
You can't buy your favourite brands at Shoppers any more, and you may not want to buy their replacements
If you've been in a Shoppers Drug Mart store lately, you may have noticed that many of your favourite brands are missing. As I discovered this week when I traipsed up and down the aisles for 10 minutes looking in vain for a can of Planter's nuts, there were approximately 16 feet of shelf space devoted to various nuts and trail mixes, but only one brand represented: Life Brand. And this is happening throughout the store, as Shoppers' brands (which, in addition to the Life Brand, include Quo and GOSH cosmetics, Balea Skincare, RAW Essentials, Simply Food and Nativa, among others) are knocking name brands off the shelves.
You don't have to tell me about the advantages (for the retailer) in promoting store brands: Better margin, lower marketing costs, repeat visits to the store, exclusivity, brand awareness in the home, etc. I get it. The problem for Shoppers, however, is that - unlike President's Choice, Loblaws' super-successful store brand - Shoppers' products mostly aren't all that great.
The food products are substandard (I dare you to ingest a Nativa cracker or cookie and then want to eat a second) and not all that cheap; a box of the facial tissue won't last you through 24 hours of a cold; and the Quo makeup always gives me a rash.
But don't take my word for it. "Oh, I never use any of the Life Brand medications," one Shoppers staffer, who asked not to be named, told me. "There have been way too many recalls on those products - you can't trust them. And the food products keep going on sale because no one buys them."
"I tried the chocolates when they first came out," said a merchandiser for one of the big Toronto stores. "They're terrible! I wouldn't buy them for myself, let alone buy them for anyone else. I don't understand why they keep trying to force us to promote them as gifts - I'd be too embarrassed to give them to someone."
Store owners don't have a choice
If the Shoppers house brand products are so bad - and the people who work in the stores know it - how come they continue to get more shelf space, while even big, established brands are getting pushed out? Shoppers head office is forcing them to take the product.
Stores are sent batches of the products, whether they order them or not, and are required to merchandise it according to the pre-determined planogram. Head office doesn't really care if we sell it or not, since they get paid once it goes out to stores. (It's worth noting that in 2010, Shoppers owner-operators filed a class-action suit against Shoppers management, for similar heavy-handedness.)
Eventually, this has got to erode margins
I know what Shoppers is trying to do and why: As a publicly-traded company which has lost revenue in recent years to changes in the way prescription drugs are sold, they're looking to shore up the stock price - and brand loyalty - in other areas. And replacing independent name brands with higher-margin, supply-chain-controlled store brands is a good way to improve 'shareholder value'.
Except they seem to have forgotten a key factor in the retail process: The consumer.
Consumers are much more willing to try store brands than they were 20 years ago, and it's not difficult to get them to try a new product, especially when you remove the element of choice. ("I wanted Planter's nuts, but I can't be bothered going to another store, and Life Brand nuts can't be that bad, can they?")
But once consumers have tried a handful of products and found most of them disappointing, they'll eventually give up. At best they'll keep shopping in your store but avoid your house brand products; at worst they'll switch stores entirely. "I never go to Shoppers any more," a friend of mine said to me recently. "All their stuff is way more expensive than Rexall, and I can't get what I need anyway." Some store managers say that retail margins are already being affected because they have to put the house brands on sale all the time just to get them to move.
The problem is that it takes time for consumers' buying habits to register with the people pushing the house brands. After all, Shoppers has 1000 stores across Canada, so by the time the store-brand product rejection causes a real dent in the bottom line and the individual store owners manage to convince head office that the products just aren't working no matter how much they're forced to merchandise, it'll probably look like the problem is coming from another direction.
Will Shoppers survive this? Yes. Are they risking long-term competitive advantage for short-term perceived gains? Definitely.
---
If people hate shopping in your store, your marketing doesn't matter.
December 18th, 2011
Just because this is a rant doesn't mean there isn't a point.
Christmastime always seems to bring out my latent crafty-craft tendencies, and this year is no exception. I decided to make these chocolate-covered marshmallows on a stick:
(I seriously need a better camera than the one on my phone. Come to think of it, I need a new phone.)
I'd probably make stuff like this more often - put anything chocolate-covered on a stick and you've got a high-perceived-value kind of edible - but it generally takes me the whole year to steel myself to do them. Not because they're hard to make (they aren't), but because getting the sticks and the melting chocolate and the little bags requires a trip to Michael's Craft Store, and I can't bear to even contemplate that more than about once a year.
This is what the lineup at Michael's looks like, all the time:
Okay, this isn't a photo of Michael's. But you see how there are, like, a zillion people in line? That's what Michael's is like.
Today, I was the 33rd person in the line, and while it took me only 7 minutes to select the items I needed, it took me 23 minutes to get from the back of the line to a cashier.
And all I could think was: If I'm limiting my Michael's shopping expeditions to once a year because I can't stomach the thought of waiting in line, how many other people are doing the same thing?
I have similar thoughts about Winners and Tim Horton's: There are plenty of times when I pass a Winners or a Tim's and decide against going in because I can see the line is 10+ people deep, there are only 2 cashiers working, and I know that by the time I've been in line for more than 11 minutes, I'm going to need to go on beta blockers for sudden-onset high blood pressure.
How much does this cut into revenue?
It's at times like this that I wish I was one of those behavioural psychologist researcher types who specialize in retail behaviour, because I would really like to know how much my - and I'm assuming I'm not alone - reluctance to enter certain stores ends up cutting into the bottom line.
How many people, running a little late for work in the morning, bypass Tim's because they don't have 15 minutes to wait in line? Does Winners lose business to other clothing stores because people like me can't face spending 45 minutes combing through the racks followed by another 30 minutes waiting for pay for them? I know these stores have to balance cashier wages against purchases, but is a cashier:customer ratio of 2:10 really the most cost-effective in the long run?
Customer experience isn't just about friendly salespeople.
Winners, Tim's and Michael's all seem to be leaders in their categories, and maybe they don't worry too much about the business they may be losing. Maybe they can't worry about it, because it's impossible to measure. After all, as I said the other day, people in focus groups lie when they're asked about purchasing decisions, so it's easy to dismiss the "I spend less money at your store than I would if you had faster checkouts" claims of someone like me as false ultimatums.
On the other hand, Winners, Michael's and Tim's spend lots of money on advertising, so they must want more business. Once you've got good brand awareness - which all 3 of these chains do - then your marketing is really about keeping yourself top-of-mind so that people purchase more stuff, more often. But when staying top-of-mind can't conquer people's reluctance to shop in your store, you might want to reallocate your marketing budget to staffing, or even process engineering.
---
When the plebes start buying your brand, do you have a problem?
August 19th, 2011
A couple of years ago, when Rock'n'Republic jeans were all the rage, a girlfriend called me in tears.
"I can't fit into any of the RnR jeans," she wailed. "They only go up to size 31. Why would they do that?"
Because the only way to get people to fork out $300 for a pair of jeans is to convince them that they're buying into some kind of aspirational lifestyle, and you can't maintain that fiction if "ugly fat people" are parading around with your logo on their bums.
(Don't freak out - I put "ugly fat people" in quotes to make it clear that it's not me making that judgment, but the people who make these products. Being size 32 in jeans definitely does not make you fat or ugly.)
But here's the thing: Emaciated LA-types represent a minority of the population, and they are extremely fickle, so restricting your target market to anorexics with an excess of disposable income is virtually guaranteed to limit your long-term growth. And when was the last time you saw someone wearing RnR jeans, or expressing a desire to buy them?
The Abercrombie & Fitch vs. Jersey Shore media frenzy
This week, clothing retailer Abercrombie & Fitch generated a whole lot of PR for itself by making public an offer to pay the cast of Jersey Shore not to wear its clothes any more.
(Interesting sidebar: Two weeks ago, we had a friend from Germany staying with us, and on his list of things to do was a trip to A&F to pick up some clothes, since he can't get them in Germany. My reaction was so negative - and I did, in fact, reference the idiots on Jersey Shore - that he ended up not going. But in Europe, A&F is still an aspirational brand, and considered 'cool'.)
At first I thought the whole thing was a brilliant PR stunt. Then I wondered whether it wasn't a little short-sighted, serving only to cement the relationship between the brand and the cheesiness of Jersey Shore forever - I mean, has Ed Hardy ever really recovered from the whole Jon Gosselin association?
And then I thought about the Rock'n'Republic example, and about how popular Jersey Shore is, and I realized that (a) if you don't keep the plebes buying your stuff, you can't keep growing; and (b) if A&F could survive that piece of cheese, 'Summer Girls', the whole Jersey Shore association was probably a perfectly intelligent business decision.
The genius of Tiffany & Co.
As far as I'm concerned, the winner of the 'aspirational vs plebes' balancing act has to be Tiffany & Co. Somehow they've managed to maintain their position as a super-high-end brand, appealing to the Birkin bag set as a suitable place to buy a $25k engagement ring and a $2500 wedding present, while also selling masses of $100 bracelets to the plebes.
How have they managed this?
I think it's a combination of factors:
The brand has resided squarely in the 'luxury' segment of the market for 175 years, so they're less susceptible to the whims of the marketplace
Their pop culture references have tended towards the classic ("Breakfast at Tiffany") rather than shoutouts in rap songs
The cheapest thing they sell (on the Canadian website, anyway) is a $105 keychain - and $105 is still a fairly high entry-level price point
They have resisted the temptation to trade credibility for short-term sales gains: It's highly unlikely you'll see Tiffany in a product placement on Keeping Up With the Kardashians any time soon
So even as they've gained a huge following among teenaged girls, they haven't lost equity with their 50-year-old mothers. Which means that 20 years from now, Tiffany will likely have a healthier balance sheet than Abercrombie & Fitch.
---