Entries tagged with podcasts
Podcasts can make you seem a lot smarter
June 8th, 2012
...and make housecleaning a lot more educational.
Image via this website.
These days, I'm doing a lot of ghost-blogging and speechwriting for clients. Which is good, because I do love writing, and when I'm doing the speeches I pretend I'm Aaron Sorkin writing for West Wing. What's less good is that I'm often writing well outside my core competencies - it's surprising how few of my clients need a piece on diet Coke or 80s new wave bands - so it's not unusual for me to be staring at my screen wondering if I should have taken a job in accounting.
But I have discovered a secret weapon: Podcasts.
In the past few weeks, information I've gleaned from podcasts has not only provided excellent fodder for speeches and blogs on subjects I would otherwise have known little about, it's also made me look incredibly polymathic. A client says "I wish we could find a good case study about the effects of kale chips on workplace productivity..." and there I am with "Well, Dr Tooloolamay of Higgledy University just conducted a study on that, with some interesting results - let me find the data for you." I look like a genius.
And it's all from podcasts.
I first started listening to podcasts at night because I suffer from insomnia and tinnitus and found that a quiet voice in my ears helped me focus and sleep. Now I listen to podcasts all the time: When I'm walking the dog, cleaning the house, taking the subway. I'm listening to a podcast right now, in fact. It's sort of like listening to the radio, except you can choose what you listen to, and there aren't any commercials.
So what should you be listening to?
My preference is for BBC podcasts, because I think their news coverage is more global and their comedians are funnier. And you often find out about interesting music and tv shows before they make it over here. But there are lots of great podcasts. Here are my current favourites:
BBC World Update
This is an excellent news roundup that covers everything from Syria to Greece in 30 minutes a day. Will definitely make you look like you're au courant about current events.
Dr Karl's podcasts
Dr Karl Kruszelnicki is a hard-core science geek who discusses everything from whether microwaves can interfere with your cellphone reception to the technology behind commercial space shuttles - and he does it in language normal people can understand. He has lots of podcasts, and all of them will teach you new things.
The Economist
Why buy the Economist when you can listen to almost all the articles read to you in nice voices? I don't always agree with their perspectives on economic events, but at least they make me think.
Freakonomics
These podcasts always give me something interesting to think about, and they have fantastic in-depth discussions about studies you might never otherwise have heard of. Excellent blog fodder here.
More or Less: Behind the Stats
I almost failed stats in university, so I like the fact that this podcast walks you through the way the media (and others) manipulates statistics - and helps you understand the real truth behind them.
Stephen Fry podcasts
Unfortunately, Stephen Fry isn't doing his podcasts regularly any more, but his pieces on language and fame are still well worth listening to.
Tech Weekly
I admit I'm not one of those people who's reading Mashable every day, so I like to save up the Tech Weekly podcasts and listen to them all in a row to feel up-to-date on technology trends. There may be better tech-related podcasts out there, but this one at least has good production values.
(I've given you links to the relevant pages here, but if you use iTunes, you can find all of these there.)
Have fun getting smarter!
---
Why aren't more companies advertising on podcasts?
August 8th, 2011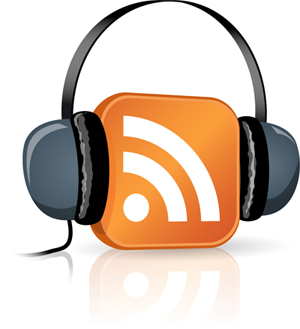 There's no more intimate experience than listening to a voice in your ears through headphones.
Think about the passionate relationships you have with the music you love. In most cases, those relationships didn't happen when you were listening to the music in a public setting, or even on speakers - it happened when you were all alone, listening to the music through your headphones, and it seemed so personal.
Podcasts are like that. You start listening, while you're walking the dog or trying to sleep, and pretty soon you have a relationship with this voice in your ears.
Relationship. The magic word that all marketers and advertisers like to hear. And it's a one-on-one relationship, which makes it extra-appealing to marketers, who are always looking to reach consumers in an intimate way like that.
It's hardly ever a one-time thing
The thing with podcast listeners is that they're loyal. Once you find a podcast you like - a voice in your ears that you develop a relationship with - you go back and listen to their whole back catalog, you subscribe to their new podcasts...it's a long-term relationship you're building.
Advertisers are looking for two things: Reach and frequency. 'Reach' is how many people you're reaching with a particular message; 'frequency' is how many times an individual person is getting hit with your message. Podcasts may have limited reach (at least so far) but they definitely have great frequency.
So why isn't there more advertising on podcasts?
I listen to a lot of podcasts. A lot. In fact, I think it's the only reason my dog isn't 102 pounds - it's easier to face a couple of hour-long walks every day when you've got something interesting to listen to. It also helps with the tedium of housework, public transit, insomnia - I'm not sure how I ever got the laundry folded before the advent of podcasts.
I listen to a wide variety of podcasters:
There are lots of others, but this'll do to get started.
Of all of these, the only one that consistently has any advertising is the Dave Gorman podcast - they do a regular segment within the podcast promoting Kronenbourg 1664 beer. The AnswerMeThis podcast had a brief promo for Audible.com (a perfect fit in my opinion, since people who listen to podcasts are likely to listen to audiobooks too) but it's gone now.
It's great to be able to listen to 30-60 minutes of entertainment without commercial interruptions and all, but as I listen to these podcasts, week after week, I can't help thinking that advertisers are mising a huge opportunity.
So what's the problem?
Well, I think the biggest problem is that there aren't any comprehensive download statistics for podcasts. The BBC, as a public company, posts stats for their podcasts, but iTunes doesn't (they have lists of 'top' downloads, but no numbers), and the individual podcasters themselves don't seem inclined to reveal stats (I've emailed a couple of my favourites, asking for info - so far not one of them has responded).
The other problem is that podcasts tend to be very international: One of my favourite podcasts is Scotland's Funny Bits, and it's interesting to note that most of the reviews for it on iTunes seem to be from Canadians. So podcasts are a great channel if you're advertising a product that's available online (like Audible) or internationally (like Kronenbourg), but possibly less appealing if you need to reach a local market.
There's a huge opportunity here
There are lots of podcast directories out there; I don't know why someone hasn't created a podcast statistics directory or advertising agency yet. (Maybe they have. But I can't find it.)
Remember what happened with bloggers? Once smaller bloggers got themselves aggregated into networks, provided statistics and a demonstrated niche audience, they suddenly became much more attractive to advertisers. I don't know why this isn't happening with podcasters. I know the BBC figures aren't necessarily indicative of the average podcast, since they have a certain basal built-in audience, but there are more than 1 million downloads of the Friday Night Comedy show every month - and the demographics for that show aren't 'kids with iPods', either. (Yes, I'm aware that the BBC has stricter advertising rules than other organizations. I'm using these shows as an indicator of audience levels.)
And I wouldn't mind getting my message into 1 million pairs of ears every month.
---